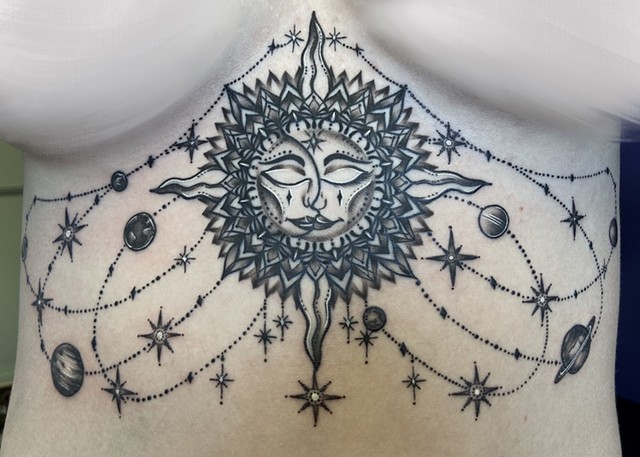 The Intention Behind Ace of Wands Tattoo and Tarot Studio
To hold space to facilitate inspiration, expansion, transformation and healing through the use of intention, divine and interpersonal connection, art, tattooing, and tarot
Ace of Wands is a card ruled by fire; a card of expansion, inspiration, potential, ambition, and beginnings. It's symbolic of the beginnings of ventures within the mind and spirit; transforming spirit into matter bringing forth possibility, opportunity and hope.
Hello! My name is Amanda Marie. I am a Tattoo Artist, Tarot Reader, and the owner of Ace of Wands: Intimate Tattoo and Tarot Studio, Just moved from Los Angeles to Upstate New York. I am also an Artist that works with mixed media creating paintings, drawings, and sculptures. The act of connecting to spirit and creating is what feeds my soul, and I have been making art for as long as I can remember.
My art and custom tattoo practice is a large part of my spiritual and magickal practice. Magick is using consciously directed energy and creating with intention; envisioning something and manifesting it. Through this ritual a bridge between the conscious and subconscious is formed as well as a bridge to intuition; spirit. I enjoy working with my clients ideas, concepts, and intentions for the tattoo or tattoos they would like to receive; creating art that utilizes symbols and imagery that resonates with the client and represents their journey and the intention of the tattoo. My intention is always for my clients to leave Ace of Wands with their new tattoo feeling inspired, empowered, and more comfortable in their skin.
I offer Tarot, Meditation, Access Bars, Energy Clearing and Grounding as a part of or separate from the tattoo process for clients who feel they will be served by these offerings. For more information on my offerings check out the links above.
Thank you for taking the time to read this and for your interest in my work! I am grateful for all of you.
Call or email for appointments, consultations or inquiries:
amandamarie@aceofwands.tattoo
516-528-8203
By Appointment Only
Ace of Wands: Upstate New York Private Studio